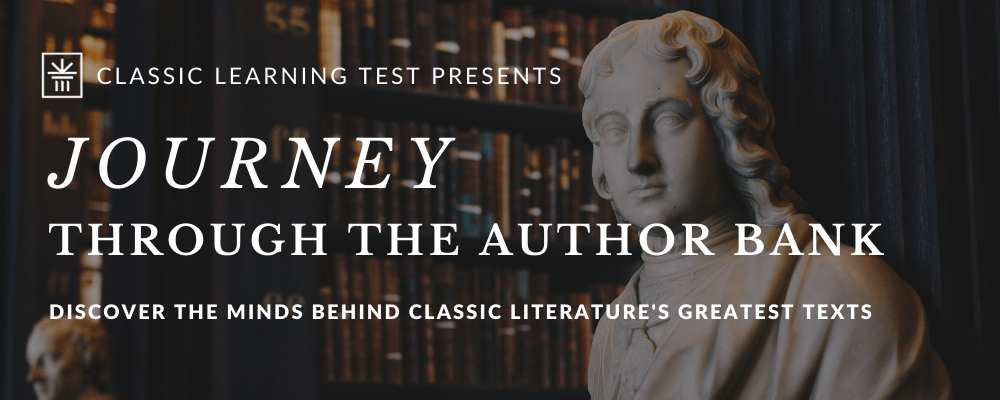 Ready to unlock the history, stories, and lives behind the Great Books?
Journey through the minds of classic literature's most profound and influential authors in our new weekly seminar series, Journey Through the Author Bank.
Guided by renowned professors from colleges and universities, the series will investigate the men and women who have shaped our intellectual heritage and explore a new thinker each week from CLT's Author Bank.
You'll meet Dante in the dark wood, sit with Tolkien in the Shire, grapple with WWII-era Germany alongside Bonhoeffer, and so much more.
THE ADVENTURE AWAITS YOU.
To get notifications about the weekly live seminars (hosted via Zoom), click below to join our mailing list.
Registrants will have the opportunity to interact with professors, ask discussion questions, and learn more about each college's or university's academics and admissions.
October 21, 2021 - 7:00PM ET
Tolkien
Dr. Mac Sandlin
Harding University
October 28, 2021 - 7:00PM ET
De Tocqueville
Dr. Joseph Wysocki
Belmont Abbey College
November 4, 2021 - 7:00PM ET
Plato - Apology
Tutor David Arndt
St. Mary's College of California
December 9, 2021 - 7:00PM ET
Flannery O'Connor
Dr. Tiffany Schubert and Dr. Adam Cooper
Wyoming Catholic College
January 20, 2022 - 7:00PM ET
C.S. Lewis
Dr. Ryan Messmore
Magdalen College of Liberal Arts
Check back for schedule updates--coming soon.